Make a difference,
About CHD
40,000 babies are born every year with a congenital heart defect- making it the #1 birth defect in America. (source: CDC) Nearly 1 in 100 babies are born with a heart defect in the United States each year. (source: CHPHC)
Congenital heart defects (CHDs) are present at birth. They include abnormalities in the heart's structure, electrical system and other abnormalities that affect the function of the heart.
There are 40 different types of congenital heart defects. Little is known about the cause of most them. There is not yet a cure for any of them.Congenital heart defects are a leading cause of birth defect-associated infant illness and death.
Congenital heart defects are approximately 60 times more prevalent than childhood cancer. (source: CHOP) In the United States, twice as many children die from congenital heart defects each year than from all forms of childhood cancer combined, yet funding for pediatric cancer research is five times higher than funding for CHD. (source: American Heart Association)
About 25% of babies with a CHD have a critical CHD. Infants with critical CHDs generally need surgery or other invasive procedures within their first year of life. The cost for inpatient surgery to repair congenital heart defects exceeds $1.9 billion a year.
Congenital heart defects occur frequently and are often life-threatening, yet research into them is grossly underfunded in relation to the prevalence of the disease. Of every dollar the government spends on medical funding only a fraction of a penny is directed toward congenital heart defect research. Since the founding of the Jayden DeLuca Foundation in 2008, death rates for congenital heart defects have declined by almost 30% due to advances made through research.
About Jayden
Jayden Riley DeLuca was born with a congenital heart condition known as a single ventricle. In the 2 1/2 years, she was with us, she underwent 2 major open heart surgeries and numerous clinical procedures. However, she was much more than a heart baby to those who knew her.
Jayden lived life like any other child–she enjoyed being with her family and her dogs. She loved going on drives to see horses and feeding them through the fence. Jayden was a seasoned traveler visiting places like Disneyland, Las Vegas, and Lake Tahoe.
Losing Jayden affected the lives of everyone she ever came into contact with. Her smile would brighten up any room, and with her gone, the world seemed like a darker place. She is greatly missed by all those who had the privilege of knowing her. And to those who never had the opportunity, you missed out on meeting an amazing child.
The DeLuca Foundation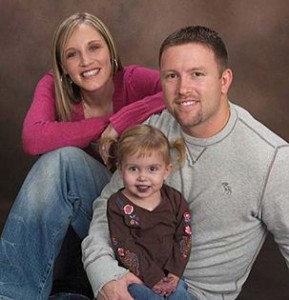 Jayden's parents, Jeremy and Karalie, believe that Jayden made such an impact in the lives of those people around her; it is only fitting that The Jayden DeLuca Foundation now do the same.
The Jayden Deluca Foundation was established in 2008 with the goal of helping other children and their families fight cardiac diseases and offer support and encouragement to all those affected by pediatric heart conditions.
The foundation looks to promote awareness of cardiac diseases and to aid in further scientific and medical research of pediatric heart conditions.
There needs to be more research and more time devoted to helping those who face this problem.
Sadly, the necessary technology that could have saved Jayden DeLuca didn't exist when she needed it. But that can be changed. Our hope is that soon, pediatric cardiac conditions will be completely manageable or will be a thing of the past altogether.
The Jayden DeLuca Foundation is run by a diverse group of individuals all bringing their own expertise to the table. Our team includes:
Board Members
Jeremy DeLuca- President of the Board, Father of Jayden, President of Muscle Beach, Co-Founder of Bodybuilding.com
Karalie DeLuca- Secretary of the Board, Mother of Jayden
Gary Davis- Treasurer of the Board, Former CFO at Bodybuilding.com
Ryan DeLuca- CEO at Black Box VR, Jayden's Uncle, Co-Founder of Bodybuilding.com
Dr. Michael Womack- Pediatric Cardiologist at St Luke's and Beyond
Tyler Bowen- Parent of Heart Hero, President/Owner of Rocky Mountain Electric
Jon Crozier- Jayden's Uncle, Manager PreCise MRM Eastern U.S. Business Territory
Staff
Julie Martin- Executive Director
Dan Aizpitarte
Community Board
Jenna Englund-Mom of a Heart Hero, Marketing & Sales Director at Berkeley Building Co.
Alex Furioso- Coffee Boss at the Human Bean Treasure Valley
Scott Summerlin- President at Starlifter Wealth Management
Courtney Frost- Foundation Coordinator at Blue Cross of Idaho Foundation for Health
Miguel Legarreta- President at the Associated Taxpayers of Idaho
Celeste Keller- Director of Major and Planned Giving at St. Luke's Health Foundation
Julie DuBois- St. Luke's Children's Hospital, Mended Little Hearts
Jayden DeLuca Foundation
2795 S Pajaro Way
Eagle, ID 83616
Hours: Mon-Fri 8am-5pm
855-553-3448
855-5JDF-GIVE